Bowmaster Prelude
Pridėti prie favoritų

Sužaista: 110393

Žymės: Armijos Flash Istorija Šaudymas Taktika Žaidimai

Aprašymas: This is a one of the games from the popular bowmaster series. You have to defend your castle from hordes of enemies with 9 different weapons. Shoot them all. If your hero dies you are defeated and you have to start the level over. Your hero has a good amount of hit points but he is still vulnerable.

Panašūs:
Komentarai
Komentarai


Cheyanna

@

2011-11-04 11:03:47

Very true! Makes a change to see soemone spell it out like that. :)

Like Reply
Komentuoti šį žaidimą
Užsiregistruokite nemokamai arba prisijunkite jei jau esate narys.
We support OpenID as well.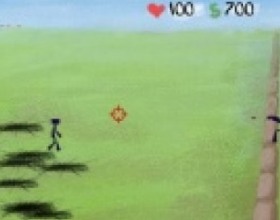 Hugo Headshooter
Dabartinis reitingas 3.37/5
Atsitiktinis Žaidimas « »