Dad n Me
Pridėti prie favoritų

Sužaista: 110416

Žymės: Flash Kovinės Smurtas Žaidimai

Aprašymas: You got really angry and decided to wear your white mask and kill all those terrible children in a kindergarten. Be careful, because some of the little guys are really strong and can kick you back. Use arrow keys to move, press A and S to attack.

Panašūs:
Komentarai
Komentarai


Claudia

@

2013-10-16 01:57:42

Thanks for this post, Am expecting my first child and i was shnicerag for information to do with baby shower, and this page has some great informational advise for baby showers. thank you very much xxLauren

Like Reply

Philly

@

2011-12-16 00:42:45

Free info like this is an apple from the tree of knowlegde. Sinful?

Like Reply
Komentuoti šį žaidimą
Užsiregistruokite nemokamai arba prisijunkite jei jau esate narys.
We support OpenID as well.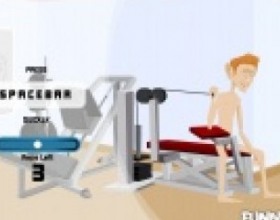 Douchebag Workout
Dabartinis reitingas 3.56/5
Atsitiktinis Žaidimas « »